Details

Parent Category: What's New
Published: 23 April 2016
Hits: 5161
In this episode of ASEAN in focus weekened aired on April 9, the program is honored to have interviewed no less than the ambassador of the kingdom of Thailand, his Excellency, Mr. Thanatip Upatising.
Our resident ASEAN resource person, Dr. Carlos Tabunda Jr., of the Development Academy of the Philippines (DAP), interviewed Ambassador Upatising at his residence where he gave his views about the ASEAN region and the relationship of Thailand to ASEAN and to the Philippines.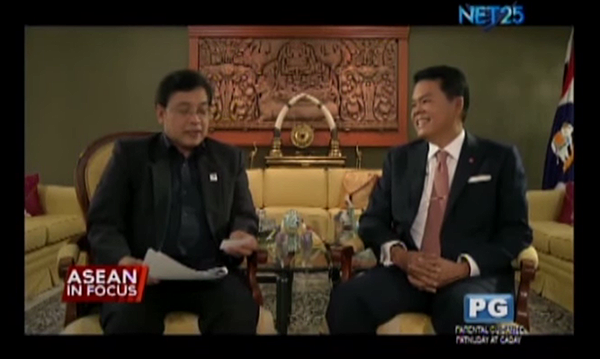 Forty‐five years of achievements since its inception in 1967, the Association of Southeast Asian Nations (ASEAN) has made a number of achievements towards regional peace, stability, and prosperity. Thailand has played an active role in ASEAN from the very beginning.
Thailand is one of the founding members of ASEAN, together with Indonesia, Malaysia, the Philippines and Singapore. The ASEAN Declaration, or Bangkok Declaration, was signed on 8 August 1967 at Saranrom Palace, Bangkok. As stipulated in the Bangkok Declaration, ASEAN was established with an aim to promote peace and stability, and accelerate economic growth, social progress and cultural development in the region through joint endeavours in a spirit of equality and partnership. Over the years, ASEAN has gradually evolved and expanded to include Brunei Darussalam (1984), Viet Nam (1995), Lao PDR and Myanmar (1997), and Cambodia (1999)
ASEAN was founded in 1967 when Thanat Khoman of the Kingdom of Thailand brought together the five original members of ASEAN, including then Foreign Minister Narciso R. Ramos of the Philippines, to sign the Bangkok Declaration that created ASEAN.

It is most unfortunate, for Thailand as well as for the ASEAN Community, that Thanat, the last remaining Founding Father of ASEAN, passed away this March (2016)
Thailand's Contribution to ASEAN, ASEAN has been and will continue to be a cornerstone of Thailand's foreign policy. Thailand attaches great importance to enhancing cooperation within ASEAN frameworks to build trust and confidence among ASEAN Member States, as well as to promote peace, stability and prosperity in the region. Thailand's contribution to ASEAN has been continuous and active. Under Thailand's chairmanship in 2008‐2009, the ASEAN Charter entered into force and transformed ASEAN into a truly rules‐ based organization. Thailand is thus fully committed to the effective implementation of the ASEAN Charter, which is vital to the ASEAN community‐building process. Another important document adopted during Thailand's Chairmanship in 2009 is the Roadmap for an ASEAN Community (2009‐2015) which lays down a series of actions to guide our community building efforts in all three pillars, namely the ASEAN Political‐Security Community, the ASEAN Economic Community and the ASEAN Socio‐Cultural Community. Thailand believes that progress in all the three pillars will support a strong ASEAN community building process beyond 2015
Always watch ASEAN in Focus weekend edition, every Saturday, 2 p.m. at NET 25 to have a deeper understanding of the various perspectives about the ASEAN region.